CADS Annual Pantomime- Cinderella by Jim Sperinck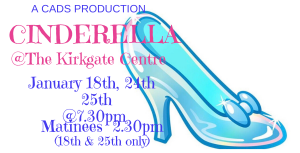 A workshop and partial read-through of the script for our Pantomime. It will be performed in the last two weekends of January 2020.
This is a great script with a comic trio of decorators, Short, Back and Sides as well as all the usual traditional Pantomime character one expects.
We welcome anyone interested in taking part to come to the script readthrough and workshop.