Murder, Margaret & Me – By Philip Meeks
25th November 2021 @ 7:30 pm

-

10:00 pm

£10.00
[cmsmasters_row][cmsmasters_column data_width="1/1″][cmsmasters_text]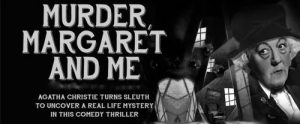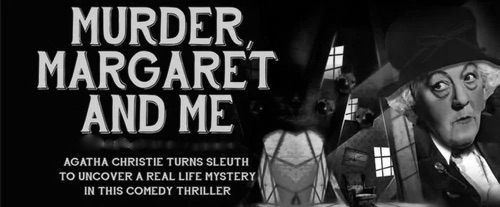 Two titans clash, one from the silver screen and one very famous crime writer, both strong willed and at the height of their fame. In the early 1960's the Miss Marple films, that later went on to become worldwide successes, very nearly didn't get made!
Queen of crime Agatha Christie didn't want Miss Margaret Rutherford- 'the funniest woman alive'-to play her fabled genteel amateur sleuth Miss Marple.
When you add in a mystery from Agatha's past and a secret that Margaret has never revealed… well, you have sparkling cyanide indeed!
[/cmsmasters_text][/cmsmasters_column][/cmsmasters_row][cmsmasters_row data_width="boxed" data_padding_left="3″ data_padding_right="3″ data_top_style="default" data_bot_style="default" data_color="default" data_bg_position="top center" data_bg_repeat="no-repeat" data_bg_attachment="scroll" data_bg_size="cover" data_bg_parallax_ratio="0.5″ data_padding_top="0″ data_padding_bottom="50″ data_padding_top_large="0″ data_padding_bottom_large="0″ data_padding_top_laptop="0″ data_padding_bottom_laptop="0″ data_padding_top_tablet="0″ data_padding_bottom_tablet="0″ data_padding_top_mobile_h="0″ data_padding_bottom_mobile_h="0″ data_padding_top_mobile_v="0″ data_padding_bottom_mobile_v="0″ data_shortcode_id="ga5mdmi1v"][cmsmasters_column data_width="1/1″ data_bg_position="top center" data_bg_repeat="no-repeat" data_bg_attachment="scroll" data_bg_size="cover" data_border_style="default" data_animation_delay="0″ data_shortcode_id="b9v30ia8ph"][cmsmasters_button shortcode_id="6alvpwdkeb" button_link="https//:ticketsource.co.uk/cadstheatre" button_target="self" button_text_align="center" button_font_weight="default" button_font_style="default" button_text_transform="default" button_border_style="default" animation_delay="0″]BUY NOW[/cmsmasters_button][/cmsmasters_column][/cmsmasters_row][cmsmasters_row data_width="boxed" data_padding_left="3″ data_padding_right="3″ data_top_style="default" data_bot_style="default" data_color="default" data_bg_position="top center" data_bg_repeat="no-repeat" data_bg_attachment="scroll" data_bg_size="cover" data_bg_parallax_ratio="0.5″ data_padding_top="0″ data_padding_bottom="50″ data_padding_top_large="0″ data_padding_bottom_large="0″ data_padding_top_laptop="0″ data_padding_bottom_laptop="0″ data_padding_top_tablet="0″ data_padding_bottom_tablet="0″ data_padding_top_mobile_h="0″ data_padding_bottom_mobile_h="0″ data_padding_top_mobile_v="0″ data_padding_bottom_mobile_v="0″ data_shortcode_id="h363918ier"][cmsmasters_column data_width="1/1″ data_bg_position="top center" data_bg_repeat="no-repeat" data_bg_attachment="scroll" data_bg_size="cover" data_border_style="default" data_animation_delay="0″ data_shortcode_id="ihhqivaag"][cmsmasters_google_map_markers shortcode_id="ggw042t0rw" address_type="address" address="Blindcrake Village Hall, Blindcrake, Cockermouth CA13 0QH" type="ROADMAP" zoom="14″ height_type="auto" scroll_wheel="true" double_click_zoom="true" pan_control="true" zoom_control="true" map_type_control="true" scale_control="true" street_view_control="true" overview_map_control="true" animation_delay="0″][cmsmasters_google_map_marker shortcode_id="nq5fo69qib"][/cmsmasters_google_map_marker][/cmsmasters_google_map_markers][/cmsmasters_column][/cmsmasters_row]